Our Location
The warm and dry wind that blows from the west, down through the Rakaia Gorge, is reminiscent of the "Sirocco," the hot desert wind that originates in Africa and travels north across the Mediterranean.
The town of Rakaia, situated on the south bank of the Rakaia River, is a 35-minute drive south from Christchurch. Sirocco Wines is 1km from the Rakaia township, located on the main road (Methven-Barrhill Road) heading inland towards Methven.
Climate
The unique climate here is provided by our proximity to the broad riverbed, in combination with the alluvial soils provides ideal growing conditions for intensive crops, including grapes. Typically nature provides the vineyard with moderate rainfall, high summer temperatures, with clear skies, providing extended ripening periods for grapes. The vines are thriving in sandy silt over laying shingle.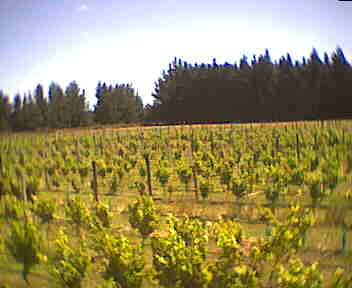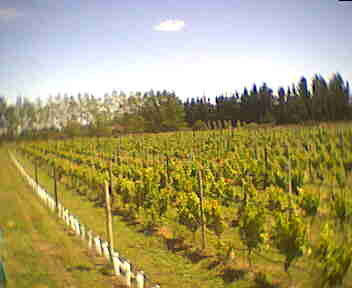 Viticulture
We emphasize vineyard management, following the philosophy that good wine is made in the vineyard. Vines are close-planted, Scott Henry and VSP canopy systems are used, and extensive leaf removal is practised. Grapes are all harvested by hand. For the past five years, only organic sprays have been used on the grapevines at Sirocco Wines. This was originally done to reinforce the health-giving qualities of wine and because of our desire to complete the picture by avoiding as much chemical use as possible.
We have taken this philosophy a step further as Sirocco Wines is now in its second year of official Bio-Gro certification. The implications of this are promising: there is an active corner of the market seeking out an organic product. Overseas and local visitors to the property confirm this with their purchases and enthusiasm.
Grape Varieties
We grow several varietals in our vinyeard: Chardonnay, Riesling, and Pinot Noir and Sauvignon Blanc are. The first vines were planted on our land 14 years ago. Since then we have devoted ourselves to the selection and grafting of suitable clones and rootstocks, resulting in assorted vines of each variety that will produce fruit with maximum flavours and complexity. The grafting and planting is ongoing program in the vineyard, with stock received through the Grapevine Improvement Group of New Zealand.
Sirocco Winery
Sirocco Wines is a fully equipped, self sufficient boutique winery. All of our wines are made and bottled on site, with some fruit being sourced locally when required. Minimal winemaker intervention is practised, allowing the fruit to express its cool climate qualities. French Oak barriques are used for the maturation of Chardonnay and Pinot Noir.
We are a completely self-sufficient vineyard and winery; thus we are able to share with our visitors every aspect of wine production.